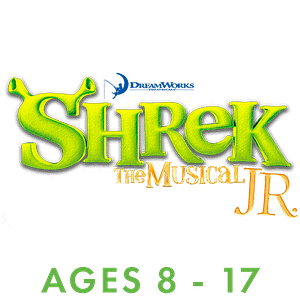 Theater Production Camp 2022
Join the show – Students will be coached in a production of the musical Shrek Jr. Students will learn acting technique, singing, dancing, theater games, and stage movement. In addition, we will memorize lines, understand scene work and the importance of working as a group. We will create and paint our own sets for the show! The group forms bonds that last a lifetime. Our only requirement – your excitement and willingness to learn! No experience necessary!
Beauty is in the eye of the ogre in Shrek The Musical JR., based on the Oscar-winning DreamWorks Animation film and fantastic Broadway musical. It's a "big bright beautiful world" as everyone's favorite ogre, Shrek, leads a cast of fairytale misfits on an adventure to rescue a princess and find true acceptance. Part romance and part twisted fairy tale, Shrek JR. is an irreverently fun show with a powerful message for the whole family.
Once upon a time, in a far away swamp, there lived an ogre named Shrek. One day, Shrek finds his swamp invaded by banished fairytale misfits who have been cast off by Lord Farquaad, a tiny terror with big ambitions. When Shrek sets off with a wisecracking donkey to confront Farquaad, he's handed a task — if he rescues feisty princess Fiona, his swamp will be righted. Shrek tries to win Fiona's love and vanquish Lord Farquaad, but a fairytale wouldn't be complete without a few twists and turns along the way.
With abundant opportunities for imaginative sets and costumes, and a host of over-the-top roles for an expandable cast, there's a part for everyone in this dazzling adventure story.
Ages
8 – 17
Two Week Camp
Monday – Friday 9:00-3:00

July 11 – 22: Tuition $695
(payment plan available)
Camp will be held at St James church in Littleton – Production will take place live on stage!
ONLY 2 SPOTS LEFT



MPA Shrek Jr Production Camp
Shrek Audition Information
Students who would like a larger role with solo singing will need to audition before camp. You may choose to send a video audition or audition in person with Morgan and Kat the instructors. Please send a video of the provided monologues and 1-2 minutes singing. Monologues and songs are available below for audition below. You may also select a song not listed below if you would like.
Send audition videos to
[email protected] or text Kat (720-899-0058)
Students who would like to audition in person can request it.
All students who do not complete an audition will be given a part that includes speaking lines and group singing. Any questions don't hesitate to text, call or email.